Measuring For Bronte Jackets
Size is something all on it's own, every brand has its own size specifications, the safest way is to measure is if possible from a jacket of a similar style, even if you have a jacket that's too small use it as a guide and add the extra on, this makes the job 90% easier. Bronte jackets are generous in the body so sometimes it's best to work from body length and shoulder + arm measurements a jacket with a sleeve that's too short doesn't look or feel right. So don't do a guesstimate get it right. Once you've made the choice of the size required and it's embroidered it can't be returned! We take no responsibility for a customers choice we want to do everything we can to help but it's the customer who takes responsibility for every decision be it size or design.
Where to measure
Zip it up and lay it face down. hopefully the picture below will give you an idea of what to do, any style jacket is better to get a guide from than nothing, so many of these jackets are presents it's almost impossible to guess size but remember this is a blouson style supposed to be worn loose, the shoulder and sleeve measurement are going to need more than a standard fitted jacket to allow plenty of room for movement when riding or working around the yard so it stops the sleeve riding up and looking too short a good guide of sleeve length is to measure down to the knuckles, it's also very important think about what will be worn underneath baggy is fine in the summer too small in the winter is a problem. If it's going over a body protector make sure the body is large enough and remember it will lift the sleeve because of the shoulder padding on the body protector, take your time and get it right.
Measure seam to seam across chest under the sleeve
Measure body length
Measure shoulder and sleeve (ARM AGAINST SIDE NOT STRETCHED OUT TO SIDE) Sorry our picture doesn't explain/show this very well allow a bit extra length for movement measure the sleeve to the knuckles to give enough room.
We are here to help and it doesn't matter how many questions you need to ask getting the jacket right is the most important thing. Read below the diagram for the true story of Mrs C
Don't do a guesstimate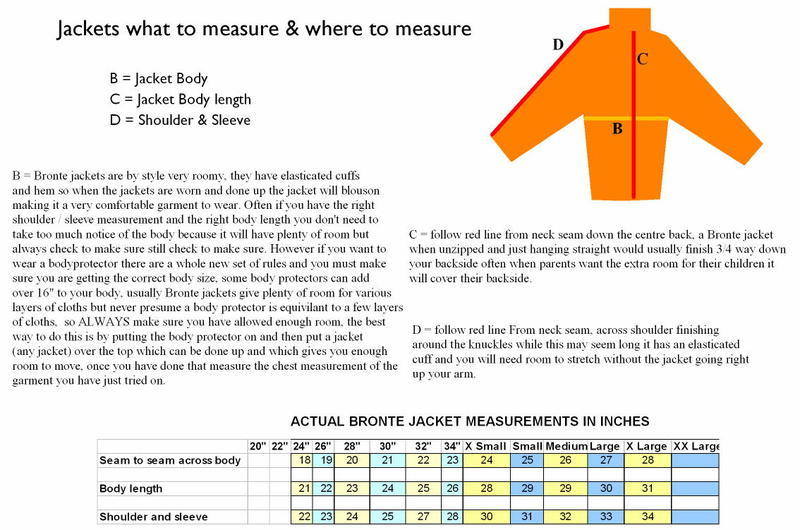 Mrs C ordered a 34" jacket for her daughter. The order was made directly through the online shop without any contact to us; we will always presume the customer has full knowledge of purchase if an order is made in this way. Mrs C
only contacted us when she received her jacket "I ordered a size 34 she said it doesn't measure 34" it doesn't fit, it's huge it should measure 34". My husband is 6' he can get into it, I was amazed at this comment I'm sure you are all aware If you order a 34" jacket it is designed to fit someone with a 34" chest, the jacket will not measure 34" a pattern is made to allow movement and is also subject to style, this jacket is a blouson style (very loose fitting) loose fitting and has in design terms a dropped shoulder as can be seen in the pictures for the Bronte jackets the shoulder seam sits a 1/4 of the waydown the arm, again making it loose fitting with enough room to fit various layers of clothing underneath for winter as this is designed to be worn all year.

According to size some wear their jacket over a show jacket. Only trousers are made to fit a measurement, 24" waist the trouser or breech should measure 24". I'd like to see a 6' man in a childs 34" jacket they may be roomy but they are not magic.